Expending precious writing time on yet another self-admitted police spy infiltrator hasn't been a high priority.
Just scratching the surface of the colossal Ben Rachinger Hoax led to an article framework of 22 sub-topics that would have taken 6000+ words to elaborate on.
But it doesn't take 6,000 words to see the Ben Rachinger Hoax for what it is.
All it takes in fact, is the tiniest bit of further investigation into his own claims as posted in his (for want of a better term) online manifesto.
Rachinger's own words are more damning than anything a critic could ever write.
Ben published a series of screenshots of conversations on his cellphone. By zooming in super close on the images you can see the text of the previous message, obscured under the transparent header.
We have exposed the text and overlaid it in white, on the right-hand side of each image.
Ben's messages appear in green and right-hand justified. His recipients in grey and left-hand justified.
Ben Rachinger asks his Police handler whether he was named as an informant in the warrant for the October 2nd, 2014 police raid on investigative journalist Nicky Hager's house. This means Ben must have supplied information to the Police relevant to that investigation. Ben's handler reassures him that he made sure Ben's name was kept out of it. Ben sends his handler a link to The Intercept's article about the Hager raid, dated October 16, 2014. Ben later claims credit for having "leaked" the story of the raid to the press.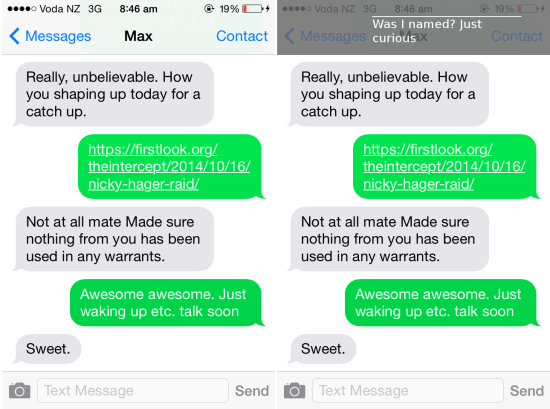 2. Ben Rachinger tells his police handler that he is: "Always free to help the police" and "I will absolutely testify as needed."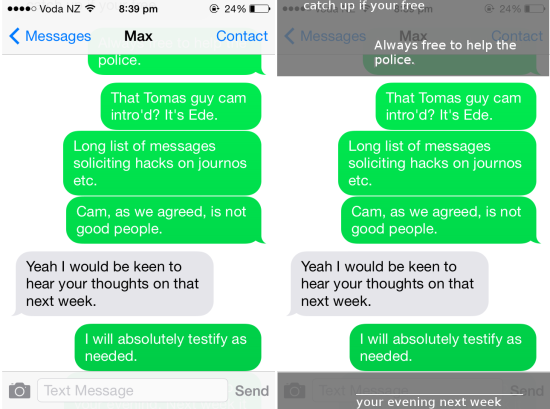 3. Ben claims to have blown the whistle on WhaleOil – which Nicky Hager's source Rawshark – the real whistleblower – had long since thoroughly accomplished. Yet what we see in Ben's screenshots is time and time again, him instructing WhaleOil to do something specific or offering to facilitate it. This is a form of entrapment. In the below case, Ben attempts to instigate a "leak on left contacts right now", then offers to do it saying "I can do it ten times removed."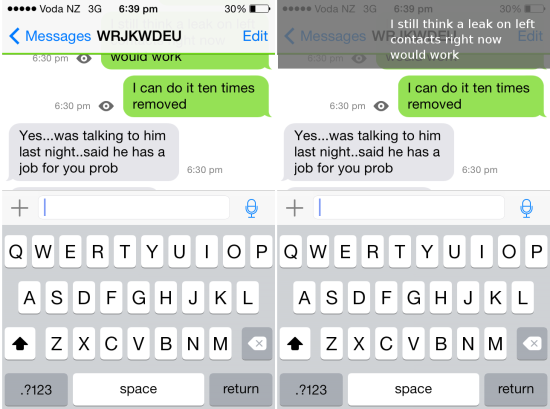 4. Talking to WhaleOil's contact who Rachinger claims is a hacker, his mask slips and the truth comes out. "Social engineering is my real core skill. It's what I use twitter for."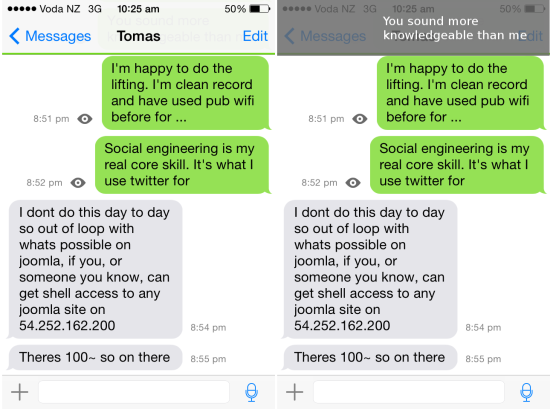 5. Ben solicits Israeli involvement – another aspect he claims to have blown the whistle on, without providing any specifics or any new information other than what is already in the public domain about WhaleOil.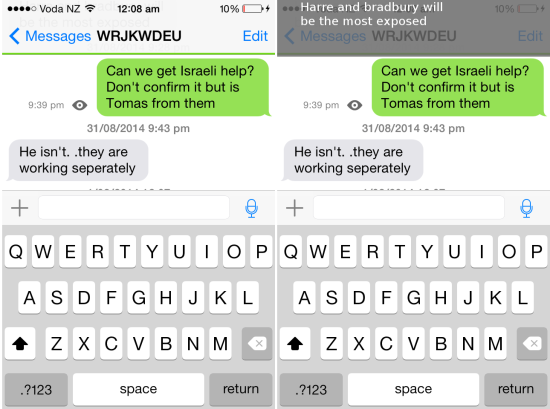 6. "I only aim to be helpful", Ben reassures WhaleOil. A helpful, social engineer, police informant.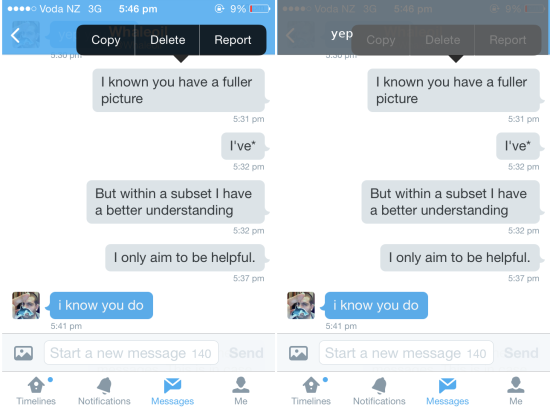 7. "Focus on Kim Dotcom" reads the exposed text in yet another one of Rachinger's screenshots. Indeed Ben's video hit piece on Kim Dotcom in the lead-up to the election is another file on the deleted pile.
8. "How to bait an animal you've never seen, though?" asks more exposed text in yet another one of his screenshots, in which he is ostensibly discussing hunting the whistleblower Rawshark.
In his manifesto, Rachinger states: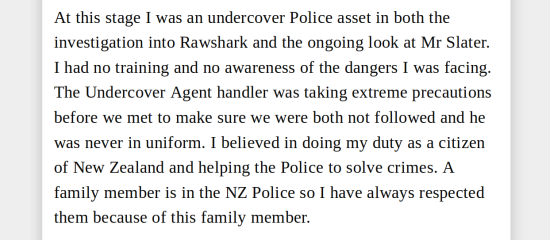 So Rachinger claims to be a WhaleOil whistleblower. Yet he was hunting the actual WhaleOil whistleblower for the Police. He wants us all to believe that his attempts at outing the whistleblower was somehow performing a civic duty.
Yet his original Twitter account, which was unceremoniously shutdown in the wake of him publishing his manifesto, told a different story.
That Twitter account had repeatedly made now-deleted proclamations such as "I've been under surveillance since I was a teenager. It changes a person."
So which is it? He was happy to work with the cops because his family member is a cop? Or he is an activist who has been under surveillance since he was a teenager?
He already gave us the answer:
"Social engineering is my real core skill. It's what I use Twitter for."
That single sentence confesses that everything Ben Rachinger has ever said on Twitter lacks credibility.
Social engineers are pathological liars and identity frauds who use social media to begin fake friendships, working relationships and romantic relationships with their targets, in order to extract confidences from them that they then barter and/or outright profit off elsewhere.
They lie constantly and to everyone.
They entrap people for a living.
They are known to bombard a thread from multiple separate accounts, simultaneously masquerading as multiple people, when in fact it is all one person. They start nasty accounts that send threats. They start benign accounts RT'ing activist content of notable activists to build credibility with and to become recognisable in activism circles.
They piggy-back on Anon ops, creating fake Anon accounts with which to monitor the activities of others, all while pretending to come from a position of solidarity.
Ben Rachinger isn't the first police spy to out himself in an online statement.
Notorious FBI informant Brandon Darby did the same thing, and also used the language of solidarity to attempt to shine himself in a positive light. As is evident in the comments section; it didn't work.
He also lied about when he actually became an undercover operative, post-dating his employment with the FBI by over a year.
How WhaleOil Became A Target Of Rachinger
The answer to that is simple. WhaleOil was always in Judith Colins camp and not long after the election was writing passive aggressive articles stating that John Key should step down as Leader or be rolled; trying to exacerbate the cracks in the National caucus. He was no longer a key ally or seen as 'needed' post-election and the content of his own article makes it apparent he was cut off by the P.M., and was unhappy about it.
Rachinger worked with the cops, the cops were trying to take down Nicky Hager and Rawshark, who had exposed the P.M.'s office, which was no longer friendly with WhaleOil.
How to bait an animal that you've never seen, indeed: by baiting it with a Whale.
How The NZ Left Media Got Duped
So what better way for one faction of the political "right" to deal a return blow on another faction of the political "right" than to have the "left" media do it?
WhaleOil was already unpopular as hell with the "left" in the wake of the Dirty Politics scandal so getting them to attack him again would prove easy.
Enter Ben Rachinger's rebranding as a "whistleblower" (who hunts whistleblowers) and his leaking of his communications with the already thoroughly-disgraced WhaleOil.
Scoop drank the Kool-Aid.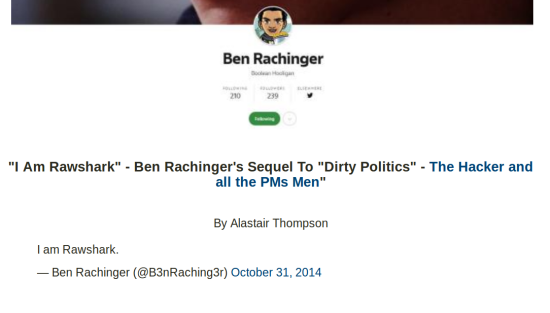 Off the bat, veteran independent journalist Alastair Thompson references a tweet of Ben claiming to be the whistleblower, Rawshark. Thompson later refers to that tweet as a 'joke' – Rachinger has called the tweet "a solidarity statement".
But with the Hager raid having occurred October 2nd, Ben having sent his handler the link to The Intercept article sometime after the 16th (17th in New Zealand) and his 'I am Rawshark' tweet being posted on the 31st of the same month, it is likely that Rachinger was still a police informant hunting Rawshark actively at the time he sent the tweet.
So we are expected to believe Rachinger was merely making the statement in solidarity with the hacker who he was hunting for his police handlers. More likely he was trying to bait Rawshark into re-emerging, and if not, to bask in the perceived glory himself.
Indeed, while Rachinger was posting his "I Am Rawshark" claim, literally on the very same day in fact, real Kiwi activists were hard at work exposing none other than the NZ Police, for their inaction against the 'Roastbusters' serial pack rapists, and familial relationships between members of the police force and the perpetrators, who to this day remain uncharged.
Rather convenient timing for one of their informants to be drawing attention away from that debacle by claiming to be Rawshark.
Thompson calls Ben "a brave (some might say foolhardy) young hacker / journalist, a class of new entrants to the media scene who are having a big impact – and some of whom like Chelsea Manning & Barrett Brown who have found themselves martyred for their temerity."
Frankly this makes me wonder if people have forgotten how Chelsea Manning ended up in jail. She was the target of a social engineer and FBI informant called Adrian Lamo.
To compare Ben Rachinger to Chelsea Manning is to compare the predator to the victim.
If that isn't enough to make you spew your coffee, Thompson refers to Ben's manifesto as "an exceptionally fine piece of undercover investigative journalism", as if it is possible for one to perform investigative journalism on oneself. What Ben actually did was cherry-pick bank transactions and digital communications to craft a tale to his liking, ignoring the many conflicting details he has deleted and edited out of existence over the years.
Rubbing salt into the wound, Thompson writes: "Like Rawshark Ben has had also some issues in social media and media relations around strategy.."
Rawshark gained 8,000 followers in a few tweets. He or she had the entire national media and populace eating out of their hand.
Ben Rachinger, by contrast, had an account comprised of thousands of fake (possibly bought?) followers; an account which he continually curated and eventually withdrew entirely.
Their social media strategies are hardly comparable.
It gets worse: "arguably these pratfalls in the "Meta" telling of the story are a signature of this new and rather compelling genre. We could call it "the real lives of geeks who are trying to save the world" for want of a better moniker. Citizen Four comes from this Genre as does Quinn Norton and Barrett Brown's work."
The genre being discussed bears no resemblance to Ben Rachinger's self-outing as a police informant. Barrett Brown is in jail for five years because of being targeted by the FBI – one of the agencies most reliant on informants and social engineers.
The closest Ben Rachinger will ever get to Citizen Four is watching it on a screen.
Written by Suzie Dawson
Twitter: @Suzi3D
Official Website: Suzi3d.com
Journalists who write truth pay a high price to do so. If you respect and value this work, please consider supporting Suzie's efforts via credit card or Bitcoin donation at this link. Thank you!
Don't just stare - please share :)