Circles within circles, they call it. Pull one thread in the New Zealand mainstream media status quo, and it's absolutely astonishing where you end up.
Chris Trotter is absolutely everywhere in the New Zealand media. A self-described "Left-Libertarian Democratic Socialist", spit and you can't miss him.
On television. In the Herald. In the Listener. On The Daily Blog, and his own well-known Bowalley Road. On NewstalkZB. On RadioLive. On the WhaleOil Radio Summer Series.
Wait, what??
Yes, that's right. It seems Chris Trotter is Cameron 'WhaleOil' Slater's pet lefty. So much so that Trotter's posts are reproduced almost wholesale, and often outright lauded, on the WhaleOil blog.
Due to the infamously insidious nature and conduct of that particular publication, it will not be hyper-linked to here. However were you willing to possibly subject yourself to tracking cookies and God knows what else by visiting http://whaleoil.co.nz/tag/chris-trotter then you could assess for yourself the prevalence with which Trotter's viewpoints are promoted to the right-wing of the New Zealand political spectrum.
The relationship tracks back years and in the vein of Trotter's own formulaic prose (which is heavily reliant on reminiscence for historical context) let's start with some background.
"Mr Slater should be an inspiration to all of us" declared Chris Trotter in November 2012; in celebration of the newly crowned NZ Truth Editor in Chief WhaleOil who in the same month was reported to have attempted to become an arms dealer (not kidding).
Indeed Slater's appointment to NZ Truth boss took many by surprise. Probably because they had never seen this 2010 retelling of the history of the publication, written not by a "left-wing conspiracy theorist" – but by Joanne Black, the press secretary of Bill English and a contributor to the WhaleOil blog.
Much later on, in August of 2014, while attempting to justify as a purported political norm the countless dirty tricks of WhaleOil and co that were exposed by Nicky Hager's book 'Dirty Politics' – ("The options are not fair means or foul: They are foul means or fouler" he declared) – Trotter quoted directly from Joanne Black's piece and was again lauded by WhaleOil: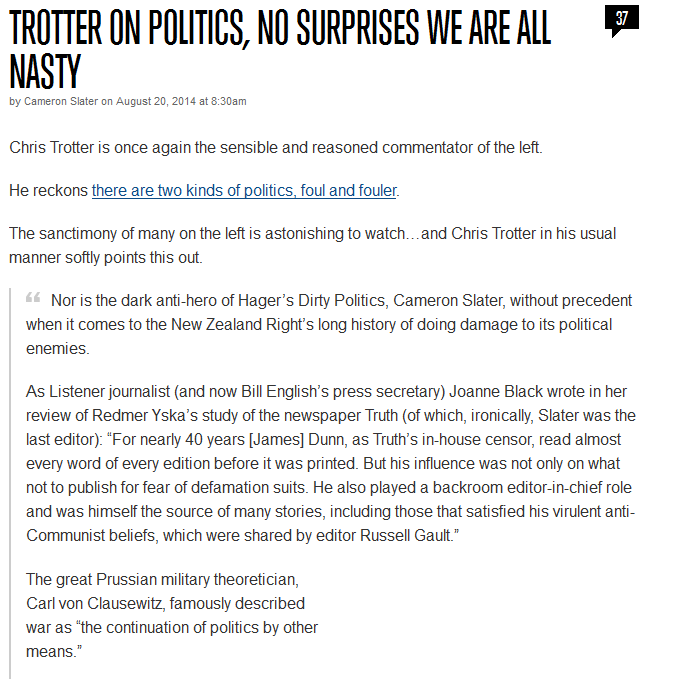 Yet as it so often goes these days… the most interesting passages of the article weren't what was quoted by Trotter. While the irony of a "Democratic Socialist" acknowledging his admirer WhaleOil's McCarthy'esque predecessors at the helm of the Truth is thick, Black's explanation of the broader attack methodologies and the publication's ties to state intelligence agencies are much more fascinating.
From Joanne Black's 'The whole Truth';
[the target] was found not guilty but, as Yska reports in his book, three days after the trial, "the first of a series of lengthy articles about [the target] appeared in Truth. A vast quantity of personal and financial information was published over three consecutive weeks to back up the weekly's claim that [the target] was in fact a spy, a liar and a contemptible individual."

Yska says the forensic detail in Truth's material was such that family and supporters were sure it was derived from "official" sources…

…"I don't believe there are any documents proving that Truth and the SIS were bedfellows, and in fact [SIS head] Warren Tucker told me there is no such material on the files," Yska told the Listener.

But does this mean the relationship didn't exist? In his book, Yska says it is safe to conclude that "over many years, sources in or close to the SIS did pass information to Truth. The relationship would have been fluid and informal, but the SIS, like its British counterpart MI5, is likely to have had officers authorised to have ­contact with journalists."
Wow. So in a nutshell, there is a long history of the publication that WhaleOil was chosen as Editor for, not only practising Dirty Politics-style targeting of political foes but being leaked SIS information in order to do it. Eerily similar accusations to those leveled against our state spy agency in 2014.
Except you didn't hear that from Chris Trotter. He somehow failed to notice it. Somewhere between his cheering on Slater's appointment and advocating Dirty Politics as the norm, the obvious parallels went unacknowledged.
Even though in both 1975 and 2014 the events sparked an inquiry into the conduct of the NZ Security Intelligence Services (SIS).
Moving on from Black's enlightening 2010 background, the brilliant publication The Paepae has an edifying retelling of the transition of Slater and Trotter from political foes to besties.
It details WhaleOil's October 21st, 2011 denouncement of Trotter (alongside The Daily Blog editor Martyn 'Bomber' Bradbury) as a 'flunky'.
The very next day, October 22nd, WhaleOil prints a retraction, citing "an offline chat" and calling Trotter "someone whose (sic) opinions I enjoy".
Of course, WhaleOil doesn't state who the offline chat was with – although it implies it was with Trotter, perhaps it was with one of the Dirty Politics puppet string pullers informing him that Trotter was A-OK… or perhaps he was just pleased as punch that not ten days earlier Trotter had been ripping the National Party's arch ideological enemy, the Mana Party, to shreds.
Perhaps nothing gives greater insight into the Trotter mentality than this video interview by well known media analyst/lecturer Bryce Edwards at the University of Otago.
Edwards introduces Trotter as one of New Zealand's 'very best public intellectuals', and we have provided a viewing guide of his intellectualism below.
Viewing Guide:
[1:00+] Edwards asks Trotter what his political persuasion can be best described as. Trotter responds that he took an online test to find out and was "as far left" and "as far Libertarian" as it is possible to go (which would push the Mana Party completely off the spectrum…?)
[8:30] Uses the precedent of Allende to warn against non-reformist political action: "it taught me it was possible to mobilise a mass of people but it also taught me there would be consequences… you don't want to be one of these people who thinks you can do radical things and that nothing will happen"
[10:00+] Explains again why he is a reformist. A recurring theme through Trotter's work is that revolution = bad bad bad. That while you can talk a great game you should never act, because of what he considers to be the historical consequences. The constant warnings against acting outside of the political process by any means are the undercurrent to his supposed 'far left' 'far Libertarian' pontificating.
[20:00+] Has a go at compatriot Martyn 'Bomber' Bradbury, for allegedly being derisive to baby boomers and for renouncing his white, male privileged status.
[23:40] Declares that the Left is at the "lowest ebb" he's ever seen. (With friends like these….)
[32:00] Incorrectly prophesies about the next Labour leader: "It won't be Cunliffe, it'll be Robertson or Ardern". A fascinating position given the stunts that a mere seven months later, would be performed by Trotter and others, to propel Cunliffe to leadership.
[38:00] His oratory takes a bizarre religious turn which is also echoed in some of his other work.
[50:00+] Says "If you've spent your life surrounded by those who are socially conservative, as I have…" and talks about the importance of appealing to the traditional political Right wing.
Of course, Trotter states all of the above while sitting on stage in a T-shirt with a bright yellow emblem that states "KEEP LEFT".
One of the most fascinating things about Chris Trotter is the way that he is accepted as a media expert and a highly decorated, experienced journalist, and yet is so wantonly open about his political machinations and "involvement in politics".
His Bowalley Road bio reads "Chris Trotter has spent most of his life either engaging in or writing about politics". In New Zealand especially, it seems the lines between journalist and political operative have blurred, at the public's expense.
In 2013 I witnessed in person Trotter back-slapping David Cunliffe in appreciation, after the latter had undermined David Shearer by usurping the Labour leader's speaking position at one of the early meetings against the GCSB on July 27th of that year.
Our media team covered the event, with multiple live-tweeters and livestream coverage, however our blog post after the fact was repeatedly electronically interfered with and our content, which included the anecdote about Trotter and  Cunliffe, was unceremoniously deleted, along with all our session information and auto-saves (as detailed in the original post on Occupy Savvy).
When we approached movement organisers with our concerns we were firmly told an agenda had been set to defer the movement (which by then had built massive nationwide momentum) with the goal of using the platform to attempt to elect David Cunliffe as Prime Minister at the September 2014 election, a year away.
The anti-GCSB movement had been a bi-partisan effort, supported by a whole raft of political parties, and it was clearly the wrong move to co-opt it to Labour. In moral outrage I wrote this post to immortalise both the political betrayal of the movement and our dissent against the course of action being taken.
The GCSB movement was about revoking the GCSB legislation – not electing one particular party candidate, and the types of political operatives masquerading as journalists who were involved in co-opting it should, in my opinion, be very ashamed. A genuine opportunity for people-led social progress was lost to the ambition of a small circle of already affluent men – a time old tale.
Even the Left noticed Trotter's endorsement of Dirty Politics, and even the Right appear to have betrayed his confidences.
In these screenshots recently "leaked" on Twitter WhaleOil claims Chris Trotter is effectively a mole, siphoning information from the Left and transporting it to the Right.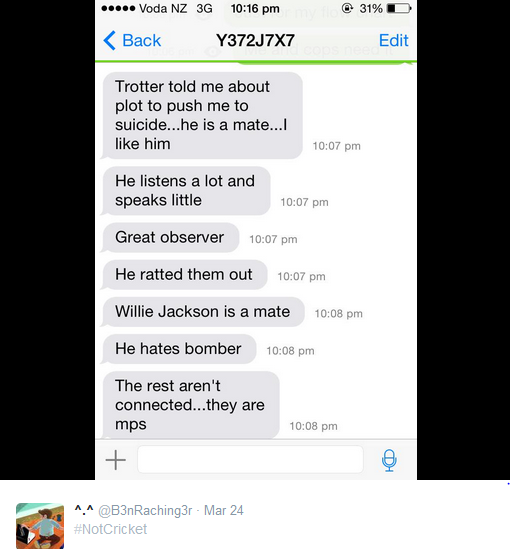 WhaleOil is known for his exaggerations and manipulations, indeed in one of the other screenshots posted he appears to admit to having lied to set up other people in unrelated scandals…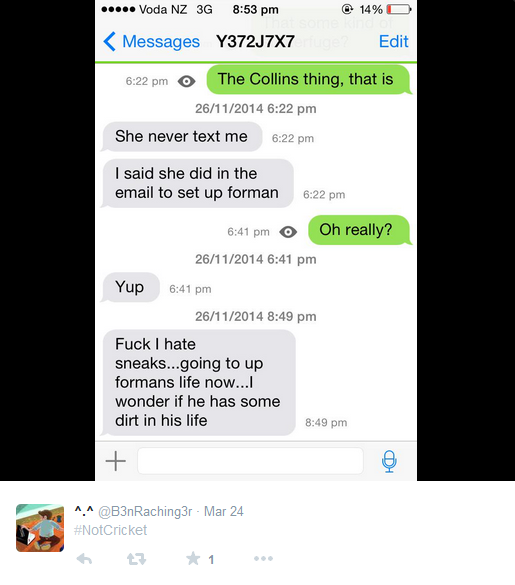 However, if WhaleOil's claims are true, Chris Trotter has some explaining to do.
Written by Suzie Dawson
Twitter: @Suzi3D
[This post was blogged live. Thanks for watching!]
Journalists who write truth pay a high price to do so. If you respect and value this work, please consider supporting Suzie's efforts via credit card or Bitcoin donation at this link. Thank you!
Don't just stare - please share :)